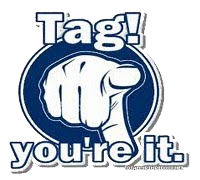 The Rules:
(1) Accept the tag and link to the tagger at the beginning of your post.
(2) Answer the questions honestly in your post by listing four things.
(3) Pass on the love by picking four other people to tag and listing them at the bottom of your post. Notify them that you tagged them.
Four Things In My Handbag:
(1) My cheap purse which refused to die. I've always pray that it'll die soon, but since it still going strong - sort of - no way I'm changing to a new one.
(2) My cell phone. I hardly use phone but I cannot leave the house without it, unless I am at my hometown.
(3) A book and my beloved iPod for the obvious reasons
(4) A notepad and a pen. I always have these two in my bag even though I hardly ever use them. Ever!
Four Favourite Things In My Bedroom:
(1) Bed obviously and a garfield pillow! This is the place I land when I read.
(2) My beloved bookshelves! Nothing fancy, but I love them nonetheless.
(3) My guitar, which I'm still trying hard to master *erk*
(4) A little bear, my dear faithful companion!
Four Things On My Desk:
(1) My beloved black laptop. Oh, how I love thee...
(2) Books and papers
(3) Stationary case
(4) A water bottle
Four Things I've Always Wanted to Do (But Haven't Yet):
(1) Finish my study and find a decent job
(2) Further my study after I gather some working experience
(3) Have my own properties, like house, car, etc.
(4) Go traveling somewhere, where I can touch REAL snow!
Four Things I Enjoy Very Much At The Moment:
(1) Reading. I think this is the thing that I enjoy most right now.
(2) Sleeping. Yeah, I know. I'm lazy :P
(3) Playing with stray cats at the back of my house.
(4) Tweaking blog. I don't know why, but I really love doing this.
Four Songs I Can't Get Out Of My Head:
(1) Happy by Leona Lewis
(2) All That I'm Asking For by Lifehouse
(3) Good Life by OneRepublic
(4) Never Alone by Jim Brickman feat Lady Antebellum
Four Things You Don't Know About Me:
(1) I like being alone perhaps because I've gotten too used to it, yikes!
(2) Like Darlyn, I also HATE, HATE, HATE dentist. Had a really bad experience when I was like 4 years old and I think that experience stayed with me till now :-S
(3) I hate my own handwriting as I think it looks childish. Hee hee.
(4) I hate insects that have too many feet. Seeing the feet movement truly make me sick. Weird, don't you think?
Four Bloggers I'm Tagging:
(1)
Jen @ The Introverted Reader
(2)
Mavie @ The Bookologist
(3)
Blodeuedd @ Book Girl of Mur-y-Castell
(4)
Dazzling Mage @ A Reading Kabocha
p/s: Thank you
Darlyn
for tagging me! This was fun =)