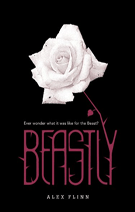 Title:
Beastly
Author:
Alex Flinn
Series:
Stand alone book
Source:
Personal Copy
Format:
Paperback
Genre:
Speculative Fiction - Fantasy
Synopsis (from author's page):


I am a beast. A beast. Not quite wolf or bear, gorilla or dog, but a horrible new creature who walks upright – a creature with fangs and claws and hair springing from every pore. I am a monster. You think I'm talking fairy tales? No way. The place is New York City. The time is now. It's no deformity, no disease. And I'll stay this way forever – ruined – unless I can break the spell.

The Adonis of Tuttle Prep, Kyle Kingsbury, owns just about everything that a person could dream of: a good look, an excellent build, a bunch of cool friends and a handful of money. All these put him on top of the school's popularity chart, makes him the King, who is loved by everyone in the school. Well, at least that is what he makes himself believes. The situation turns ugly when Kyle decides to play a trick on a fat, ugly girl named Kendra without realising who she really is. His evil plan backfire, causing him to be cursed, where he is turned into who he really is in the inside – A Beast. Without falling in love and being truly loved in return, Kyle will remain as a beast... forever. Here begins his desperate journey to find a true love, to learn the things that he had missed and to heal himself from his tainted past. Can he find what he is looking for before his time runs out?
Set in contemporary New York City,
Beastly
is an updated version of the famous classical tale,
Beauty and the Beast
. The author, Alex Flinn, deserves a credit on her creativity where she swiftly adapts ideas from the original to fit into the modern world. For example, the kingdom is now the city of New York and the castle that has been the resident of the lonesome beast is now Kyle's huge, yet empty apartment. Apart from that, she also includes an interesting idea of her own where she adds excerpts from a chatroom called "Unexpected Changes", in which numbers of magical creatures afflicted with transformations gather together to discuss problems in their daily lives. This is actually my favourite part of the book as it introduces the readers to other characters like the mermaid and the frog, who are also chasing for true love. This, along with the author's concise and fluid writing indeed make this book an interesting read.
Despite of that, there are still quite a few things about this book that fail to satisfy me. I feel that
Beastly
will work a lot better if the characters in it are somewhat older as it is a little hard to believe that a person at the age of 15 to 17 can really find and understand the real meaning of true love. The story can also be more believable if the author lets the characters mature a bit more, for instance by taking times telling the readers about Kyle's transformation into his better self in a much greater details. I feel that this has been done in a rather abrupt way to the point that it has become unrealistic. It would really be nice to see more changes in him before he finds the love that is meant for him. The too easy and too sweet ending is also another thing that disappoints me. I was not hoping for a surprise when I started reading this book but I was still hoping for some additions to the fairy tale that can distinguish
Beastly
from the original tale other than just the mere settings.
All in all, I am not entirely satisfied with this book as I thought that it could really be a lot better especially when it comes to the ending. It is an average, fluff and light read that I believe suitable for those who are big fans of fairytale-ish kind of books complete with heart-warming romance and interesting characters.
Favourite Quote: Those who do not know how to see the precious things in life will never be happy.
Beastly
is just an average read for me. Too many potential details have been left out from the story causing the book to lose some juice that can make it more interesting. Don't get me wrong; it has a good pace, simplistic writing and some tweaks from the original but I guess, I just need more for it to be interesting for me.
*This review is taking part in Cym Lowell's Book Review Party Wednesday