Without doubt, my wishlist continues to rapidly growing. The book I am craving for this week is (are, to be exact since I *want* each books in the series!) not actually a new book but I only heard of its existence fairly recently and as I read the description of the book, I was completely hooked. The book that I was talking about is: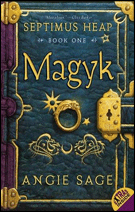 Book Title:
Magyk
Author:
Angie Sage
Series:
Septimus Heap #1
Pages:
608 pages
Genre:
Fantasy
Book Description (taken from Amazon):
A wide cast of characters battle the forces of Darke Magyk in a well-realized world of fantasy. At birth, Septimus Heap is carried away for dead, and his father, Silas Heap, is entrusted with a baby girl. When the villainous Supreme Custodian tries to assassinate the now 10-year-old Jenna, who, it turns out, is the daughter of the murdered queen, the girl flees to the Marram Marshes along with some family members, the ExtraOrdinary Wizard, and a young army guard known only as "Boy 412." Pursued by the servants of the Necromancer DomDaniel, and aided by an engaging array of magical beings, they finally prevail in a satisfying and fairly exciting conclusion. Despite the hefty length, the novel is quite easy to follow. Many creative magical elements, such as the deliciously repulsive Magogs, add to the fun. Frequent point-of-view shifts give a well-rounded picture of the multiple plot threads and add many opportunities for light humor. Overall, this is a fine choice for fantasy readers looking to delve into a new world with lots of magic, plenty of action, and a few neat surprises.
Other Books in the Series:
(1) Flyte
(2) Physik
(3) Queste
(4) Syren