Friday 56 is a weekly meme hosted by Storytime with Tonya and Friends. The rules for this meme are rather simple: (1) Grab the book nearest you - Right now, (2) Turn to page 56 and find the fifth sentence, (3) Post that sentence and few others plus this instruction. (4) Post a link along with your post back to the site mentioned earlier, (5) Remember, choose the book closest to you. And if possible, try not to include any spoiler in your teaser.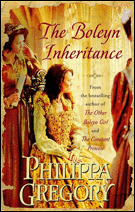 Closest Book:
Boleyn Inheritance
Author:
Philippa Gregory
Series:
No. 3 of The 16th Century Tudor
Genre:
Historical Fiction
This is so true that even I can see it. "Oh, yes". "So wash your face again and come to my lady's chamber. Your uncle will be at any moment". I go as fast as I can, pausing only to tell Agnes and Joan and Margaret that I know full well I am going to court and I never believed their spite for a moment, and then I hear them shouting: "Katherine! Katherine! He is here!"...