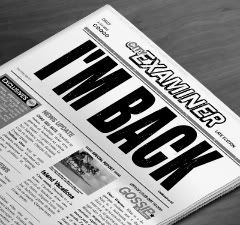 Wow, I seriously missed blogging (And Twitter, of course)! I thought that I can get online when I was at my parent's house, but the internet decided to have mind of its own and threw me out of the window. I thought that I cannot survive a week without the internet - my dear bestie - but apparently I can (Well, with little doses when the line decided to work at the speed of snail or when I was at the store, luxuriating the free wireless!). However, one positive thing that happened when I didn't glue myself to the internet was that I can dedicate most of my time to reading. I managed to read ten books in total, which was something that never happen to me before *lol*.
Books that I read were:
(1) The Vampire Diaries 3 & 4 by LJ Smith
(2) The Glass House by Rachel Caine
(3) The Dead Girl's Dance by Rachel Caine
(4) Midnight Alley by Rachel Caine
(5) Feast of Fools by Rachel Caine
(6) Lord of Misrule by Rachel Caine
(7) Carpe Corpus by Rachel Caine
(8) Fade Out by Rachel Caine
(9) Tithe by Holly Black
(10) Valiant by Holly Black
I really had a week full with vampires and faeries there! I thoroughly enjoyed most of them and their reviews will be coming within this or the upcoming week =) I hope that everyone is doing good and had a fab time, as much as - or more - than I did during my much needed holidays. I'll start blogging, bloghopping and twitter-ing as soon as everything settles down (Meaning unpacking my truck load of stuffs!). Until then, have a pleasant day everyone.