Today's On My Wishlist features three books from three male authors that I've been dying to read for quite sometime now. I've read crazily good reviews on these books and they seriously intensified the need to own them as soon as possible!
Book Title:
The Maze Runner
Author:
James Dashner
Series:
Maze Runner #1
Pages:
384 pages
Genre:
Dystopian Fiction
Book Description (taken from Amazon):
When Thomas wakes up in the lift, the only thing he can remember is his first name. His memory is blank. But he's not alone. When the lift's doors open, Thomas finds himself surrounded by kids who welcome him to the Glade—a large, open expanse surrounded by stone walls. Just like Thomas, the Gladers don't know why or how they got to the Glade. All they know is that every morning the stone doors to the maze that surrounds them have opened. Every night they've closed tight. And every 30 days a new boy has been delivered in the lift. Thomas was expected. But the next day, a girl is sent up—the first girl to ever arrive in the Glade. And more surprising yet is the message she delivers. Thomas might be more important than he could ever guess. If only he could unlock the dark secrets buried within his mind.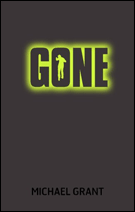 Book Title:
Gone
Author:
Michael Grant
Series:
Gone #1
Pages:
576 pages (Oooh, yummy!!)
Genre:
Fantasy
Book Description (taken from Goodreads):
Except for the young. Teens. Middle schoolers. Toddlers. But not one single adult. No teachers, no cops, no doctors, no parents. Just as suddenly, there are no phones, no internet, no television. No way to get help. And no way to figure out what's happened. Hunger threatens. Bullies rule. A sinister creature lurks. Animals are mutating. And the teens themselves are changing, developing new talents—unimaginable, dangerous, deadly powers—that grow stronger by the day. It's a terrifying new world. Sides are being chosen, a fight is shaping up. Townies against rich kids. Bullies against the weak. Powerful against powerless. And time is running out: On your birthday, you disappear just like everyone else...
Other Books in The Series:
Hunger (Gone #2)
Lies (Gone #3)
Book Title:
Leviathan
Author:
Scott Westerfeld
Series:
Stand alone book (Me think!?)
Pages:
440 pages
Genre:
Fantasy
Book Description (taken from Goodreads):


Prince Aleksander, would-be heir to the Austro-Hungarian throne, is on the run. His own people have turned on him. His title is worthless. All he has is a battletorn war machine and a loyal crew of men. Deryn Sharp is a commoner, disguised as a boy in the British Air Service. She's a brilliant airman. But her secret is in constant danger of being discovered. With World War I brewing, Alek and Deryn's paths cross in the most unexpected way…taking them on a fantastical, around-the-world adventure that will change both their lives forever.
So now you know what is in my wishlist. Let me see what's in yours? Leave me a comment with link to your On My Wishlist post =) Have a great weekend everyone!