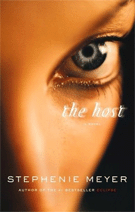 Title:
The Host
Author:
Stephenie Meyer
Series:
Stand alone book
Source:
Purchased
Format:
Paperback
Pages:
809 Pages
Genre:
Science Fiction
Overall Rating:
Synopsis
(from the book cover):
Melanie Stryder refuses to fade away. Our world has been invaded by an unseen enemy that takes over the minds of human hosts. Most of humanity has succumbed. When Melanie - one of the remaining humans - is captured, she is certain it is her end. Wanderer, the invading "soul" who has been given Melanie's body probes her thoughts to discover the whereabouts of the remaining human resistance. Instead, Melanie fills Wanderer's mind with visions of Jared, a human who still lives in hiding. Unable to separate herself from her body's desires, Wanderer begins to yearn for a man she is tasked with exposing. When outside forces make Wanderer and Melanie unwilling allies, they set off on a dangerous search for the man they both love.
First Sentence:The Healer's name was Fords Deep Waters.

My Review: Intriguing. That is perhaps the most suitable word to describe how I feel about The Host. Despite being categorised under science fiction, I believe that there is more romance to it rather than the science part itself. But nonetheless, the book didn't fail to catch my interest and hold me to it till the very last page. I've to say that I enjoyed this book far better than I did with the other books in Twilight series. Perhaps the fact that this book has more depth in it is the reason I like it even more.

In The Host, the reader was introduced to the world where human had became the hunted species. Alien invaded the Earth but instead of turning it into a state of chaos, this alien invasion brought peace to the world. The Soul – the alien entity – was implanted to everyone's brain by alien doctors known as "The Healers". The parasitic Soul is supposed to be able to control the host's mind and claim the body as their own. However, things were very different with Soul named "Wanderer". Her body was previously belonged to Melanie Stryder, one of the human rebels who successfully evade the Soul for quite awhile. Instead of fading away, Melanie continued to co-exist inside of Wanderer's head. She yelled, she talked and eventually she shared memories of her younger brother, Jamie and her lover, Jared with Wanderer. Without realising it, Wanderer too started to care for these two men she hardly met.

So when Melanie strongly believed that the two of them still alive out there, they started a quest of finding their hiding place while at the same time trying to elude from being captured by "The Seekers", Souls who search for human renegade. They eventually found Melanie's family but instead of happy to see her, they were disgusted by the presence of Soul that had invaded Melanie's brain. Jared, whom Melanie once loved, had also turned cold towards them. The only warmth welcome they received was from Uncle Jeb (Melanie's eccentric, funny uncle), Jamie (Melanie's brother) and Ian (The man who started to fall in love with "Wanda" the Wanderer). With all the odds that mounted against them, will Wanda and Melanie able to adapt themselves at their new "home"? Will this complex love quadrangle between Wanda, Ian, Melanie and Jared ever work? And last but not least, will Wanda ever get used to the feelings that normal humans have?

The Host truly got me hooked! I've to admit though that the first more or less 50 pages were slow but once I'd got used to the world with Souls, Healers and Seekers, everything started to get really smooth. I absolutely love the fact that most part of the book was narrated from Wanda's point of view. I enjoyed Wanda's character development and the way she struggled to be accepted seemed real. The intrapersonal banters between Wanda and Melanie were also interesting since it could be amusing and heartbreaking at times. Even though I initially hated Melanie's character, my feelings did change once she got more matured towards the end of the book. Full with action, emotional struggle and fight for human survivals, this book is very entertaining and without doubt, will leave you awake till late at night. Well, at least it did that to me ;)

Final Verdict: Stephenie Meyer nailed it with this touching love and survival story. It portrayed hope during the most trial time, complete with complex yet real characters.Recommended to those who love light science fiction intertwined with interesting love story.

Memorable Quote: I, the soul called Wanderer, love you, human Ian. And that will never change, no matter what I might become - Wanderer "Wanda"