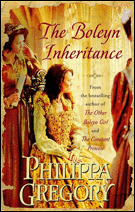 Title:
Boleyn Inheritance
Author:
Philippa Gregory
Series:
The 16th Century Tudor #3
Source:
Bought
Format:
Paperback
Pages:
608 Pages
Genre:
Historical Fiction
Overall Rating:
Synopsis
(from the book cover):
ANNE OF CLEVES runs from her tiny country, her fateful mother, and her abusive brother to a court ruled by the terror of a vengeful king who despises her. Her inheritance: accusations and false witness. KATHERINE HOWARD is in love - but not with the diseased old man who made her queen and beds her night after night. Her inheritance: the threat of the axe. JANE ROCHFORD's testimony sent her husband and sister-in-law to their deaths and sealed her reputation for malice, jealousy, and twisted lust. Her inheritance: a fortune and a title, in exchange for her soul...
I was first introduced to Philippa Gregory when I watched movie adaptation of one of her novels. The Boleyn Inheritance is actually the third installment in her Tudor series and was preceded by The Constant Princess and The Other Boleyn Girl (The movie was adapted from this novel). I was a bit skeptical while reading the first few chapters of the book but was pleasantly surprised at how good it eventually turned out to be.

In The Boleyn Inheritance, King Henry VIII was no longer the handsome, beloved young man that we met in The Other Boleyn Girl. He was portrayed as a fat, stinky, mad and paranoid tyrant, who ruled his country with such cruelty. When Anne of Cleves found out that the king chose her to be his forth wife, she treated it as a way to escape herself from her obnoxious brother and mother. Little did she knows what she got herself into and the devastating mistake she made during her first acquaintance with the king caused him to hate her ever since. In the Court, she met Katherine Howards, a very young, witty, naive lady-in-waiting, who was willing to do anything for few pairs of gowns, ribbons and jewelries. There was also Jane Boleyn, head of Queen's privy chamber, who was responsible for the death of her own husband and sister-in-law and also one who never hesitate to put others' head on the block for her own personal gain. This is the story about betrayal, backstabbing and political game that creates a question of who will be sustained enough to survive it in the end?

The thing that I love most in this book was the way it was narrated from three different viewpoints. Yes, some people might find it repetitive but in my opinion, it is fascinating to see the same plot being played in the mind of three different persons. It sort of acquaints us with these different personalities and make us understand further on what their personal intentions might really be. In term of character development, most of them are somewhat one dimensional but this is completely understandable because I believe it would be hard to let a historical figure evolves without deviating too far from the original fact of the story. The book was beautifully written until at some points, I feel like I can see them dancing, hear the music, feel the fear and smell the unpleasant scent of blood. Definitely a book that shouldn't be missed by any fans of historical fiction.

Favourite Quote:
If I had been a gyrfalcon that my father called me, I would have flown high, and nested in lonely, cold places and ridden the free wind. Instead, I have been like a bird in a mews, always tied and sometimes hooded. Never free and sometimes blind - Anne of Cleves