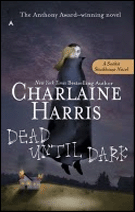 Title:
Dead Until Dark
Author:
Charlaine Harris
Series:
Sookie Stackhouse #1
Source:
Bought
Format:
Paperback
Pages:
292 pages
Genre:
Speculative Fiction - Paranormal
Overall Rating:
Synopsis
(from Goodreads):
Sookie Stackhouse is a cocktail waitress in small-town Louisiana, but she keeps to herself and doesn't date much because of her "disability" to read minds. When she meets Bill, Sookie can't hear a word he's thinking. He's the type of guy she's waited for all of her life, but he has a disability, too - he's a vampire with a bad reputation. When one of Sookie's coworkers is killed, she fears she's next.
I so wish that I've known about this book before I watched "True Blood" series on HBO. Not knowing about the mystery that enveloped the town of Bon Temps and how it all may end will surely add more to the suspense element that the author tried to inject throughout the book. But nonetheless, the book is still good and I did enjoy most part of it.

The story began with the introduction to the life of Sookie Stackhouse as a waitress at Merlotte's in small-town Louisiana. She wasn't just an ordinary girl as she was born with the ability to hear people's thought. This "disability" of hers pretty much ripped off her social life until the day Bill Compton walked into the bar. In the world where Sookie lived in, the vampires were already "out of the coffin" and Bill was one of them. But this didn't stop Sookie from being drawn to him because he was the only man she ever met whose mind she cannot read. However, ever since Bill moved in the town of Bon Temps, a few mysterious deaths started to occur. It looked like vampires work at first due to the existence of bitten marks on every victim, but later on, police also began to suspect Sookie's womaniser brother, Jason, due to the fact that he was involved with the victims shortly before they were murdered. The question right now was: Who actually did it and why?

With a great mixture of romance, comedy, suspense and fantasy, Dead until Dark didn't bore me a bit. I fell in love with both of its main characters and it was interesting to see the romance bud between the two of them. However, I wish that there were not so much explicit parts in this book because the frequency of its occurring was quite annoying. Other than that, this was definitely a good light read. Here's hoping that the next instalment would be even better than this one.